If you have a Dell server that continually boots into the BIOS menu and you have to press the ESC key to boot to the hard drive, no.. it's not the F2 key is stuck.. it's possible that the first boot device is set to BIOS and yes, there is a simple fix.
You can make the changes from the UEFI or from the iDrac. Either way, the concept is the same: set the first boot device to Hard Drive. I am going to illustrate using iDrac since most people stuck in this predicament and experience high stress levels, probably have the server in a data center or remote location.
Go to system –> setup –> first boot device and from the drop down menu select Hard Drive.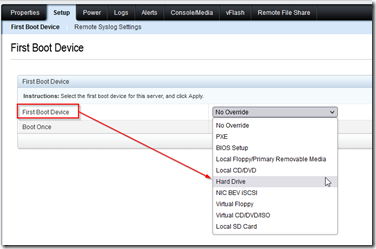 Remove the check mark from the Boot Once option, then click on the apply button.

Power cycle the server and it will now boot from the hard drive.