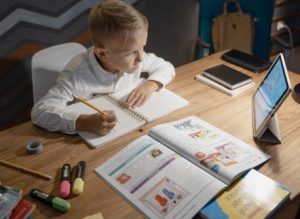 Falcon IT Services provides distance learning and virtual classroom platforms to businesses and educational entities in South Florida.
Distance learning is a flexible teaching and training platform that has become ubiquitous in the post COVID19. Schools use them to teach students in virtual classroom environments while universities utilize them to reach students in diverse geographic locations. Businesses also utilize distance learning platforms to provide training to employees, or products training and presentations to a large number of remotely connected customers.
Distance learning platforms differ from on-line teleconferencing in several ways. Firstly, they use a one-to-many broadcast connection, allowing a large number of students to connect to a single point while making bandwidth requirements incredibly efficient. A single 1Gbps Internet connection can server over 100 remote students. Another difference between learning platforms and conferencing platforms is that learning platforms allow educators to monitor the interaction of students via on-line quizzes, questionnaires and they includes icons that virtually represent physical actions such as raising a hand to ask a question.