Using Internet Explorer as an FTP client is easy, but it's going away for good soon and it's better to use a robust FTP client like Filezilla. Slow and unreliable connections or large files can cause your FTP connections to drop and you then have to start the file upload/download all over again. With Filezilla, file transfers begin where they left off, saving you time and frustration.
To use Filezilla, download the Filezilla Client from a trusted source such as https://filezilla-project.org, the program is free of charge. Beware: Since Filezilla is Open Source and freely distributable, many download sites bundle it with their own junk ware. Be sure to download it from a trusted site!
Run the installer and follow the prompts to install the Filezilla program.
Enter the host name, user name and password (this should be provided to your by the FTP site administrator) and click on the quick connect button.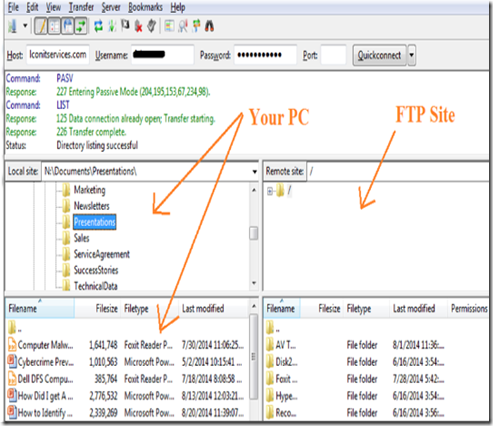 To upload files from your computer to the FTP site, simply drag and drop them from the PC files window to the FTP site windows. To create subfolders, right click on the remote site folder icon and select create directory.
To download files, simply drag and drop from the remote site to the local computer window or right click on the file and select download.
If your Internet connection is intermittent,m slow or unreliable, select edit –> settings.
Change the maximum number of retries to up to 99 and increase the timeout period to 40 seconds.