The iDrac6 is a deprecated product that reached end of life in December 2015. Due to quality craftsmanship, many Dell servers abound that utilize iDrac6. Unfortunately modern browsers will not connect, instead opting to display the following error:
Secure Connection Failed

An error occurred during a connection with (IP Address or FQDN). Peer using unsupported version of security protocol.
To get around this, you will need to update the iDrac6 firmware. First, download the last release of iDRAC6 firmware which is version Monolithic 2.92. Double click on the image file to install the update and update iDrac6.
If you do not have a way to run executable files from the server's OS, you can still update the iDrac6 via remote Web GUI. Double click the downloaded image file but instead of installing it, extract it. You will need the file named firmimg.d6 located in the payload directory in order to upload it from the iDrac Web GUI.
Contemporary browsers will present the above error so you will need to use Edge or Internet Explorer in order to access the iDrac6 Web GUI.
Open Internet Properties from the control panel and depending on how old your iDrac6 revision is, you may need to enable TLS 1.1 or 1.2.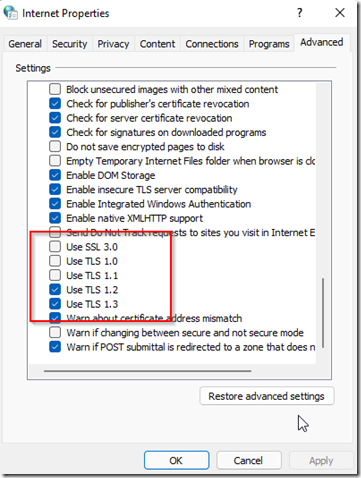 Again, depending on your iDrac6 revision, set Edge or Explorer into compatibility mode for IE7, IE8, or IE9… this should allow you to temporarily access Idrac6 Web UI in order to update the firmware.
Note: Since the method of setting IE compatibility mode differs depending on the multitude of changes in UI menus in various iterations MS browsers, we will not cover that procedure here. Seek and ye shall find… i.e via a quick Web search.
Once you have set IE into the desired compatibility mode and entered the iDrac6 GUI, navigate to the update tab from the remote access menu.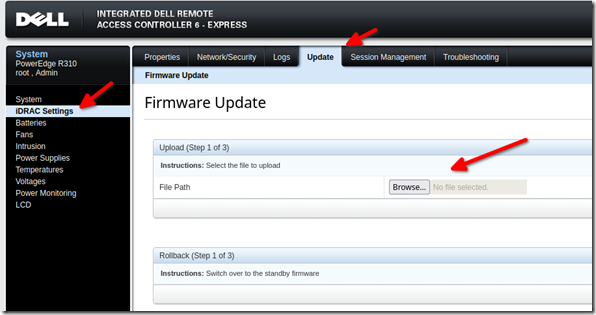 Upload the file firmimg.d6 from payload directory located in the previously downloaded and extracted files. This is the binary firmware image file that's needed to update the firmware.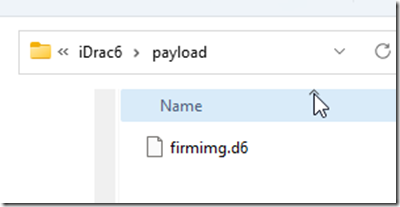 Once updated to 2.92, you will be able to access the iDrac using contemporary browsers such as Firefox and Chrome. Don't forget to change the settings back in the Internet properties, as TLS 1.1 and below are generally disabled by default.