Disappearing E-mails can be caused by several factors. We are going to look at some possibilities:
To investigate follow these steps:
First, make sure that the sender does not get a bounce back. If they get a bounce back message then the message will state the nature of the communications problem. It could range from the sender's server being in a SPAM block list to an attachment exceeding the allowed size.
Next, determine if the issue is cause by a rule you have created. In the example below, there is a rule that deletes emails from a specific sender. navigate to file –> rules and if you see any Outlook rules that you suspect may be the culprit, delete them.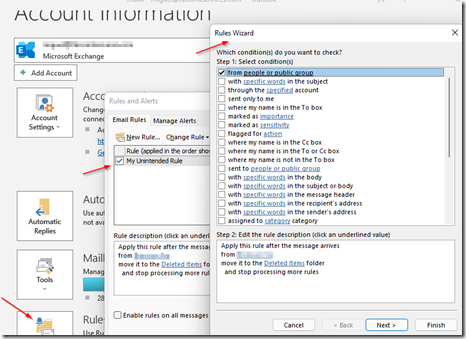 Check server-side rules as well. In Exchange ECP or Office365 admin, navigate to mail flow –> rules and check for offending rules. In the example below, a server-site rule is set to block gmail.com addresses. If the blocking rule sends the emails to the deleted folder, it will seem to 'disappear'.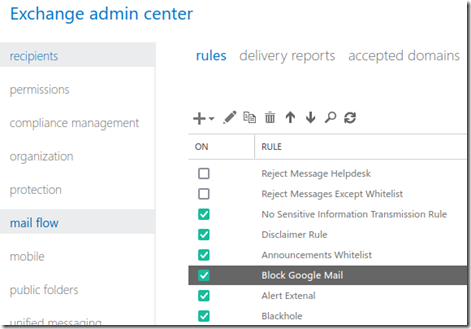 Another factor could be third part devices. Smartphones apps can have their own rules and SPAM filters so check that your phone or tablet app which synchs with Outlook is not the culprit. Turn off your smartphone or tablet and ask the sender to re-sent the email to test if the smart phone or tablet is the offending device.
Finally, check Outlook's SPAM filter. Right click on any message and select junk –> junk mail options.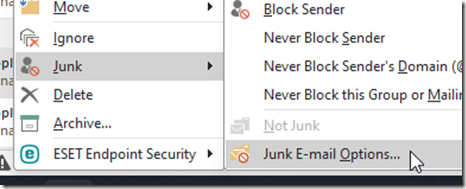 In the options tab, ensure that the option that permanently deletes junk mail is not checked.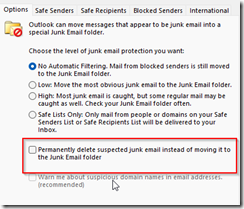 Also check the blocked sender's tab to make sure that the sender is not in the blocked sender's list.