This article shows how to back up your Outlook 2003, 2007, 2010 mailbox to a PST file. In later versions, the steps are the same but the file menu has been replaced by the ribbon.
Open outlook and select import and export from the file menu.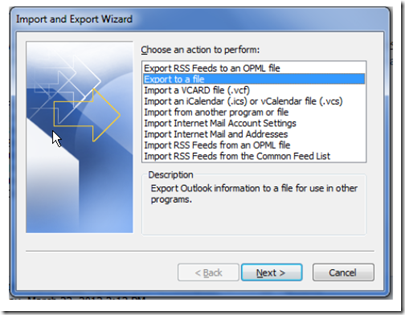 Select Export to a file then click next.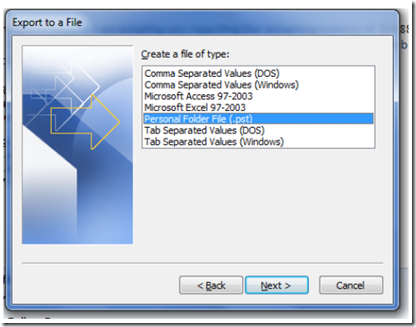 In the Export to a File dialog box, select Personal Folder File (.pst) and click next.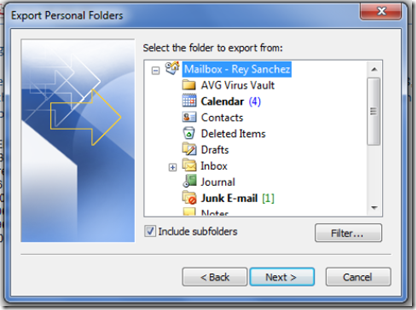 Highlight Mailbox – Your Name and place a check mark in Include Subfolders. Click next.
Select a location to save the file. For example, MyDocuments. Click OK.
Give your file a friendly name. If you wish to password protect the PST file, enter a password then click OK. Otherwise, leave it blank and click OK.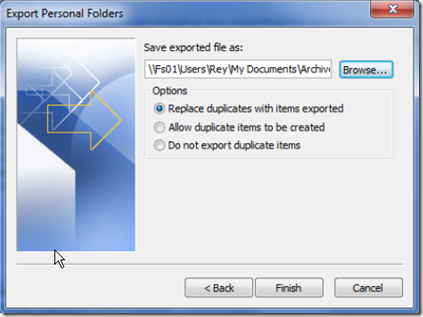 Wait until the exporting finishes before using your PC.
Congratulations! You have just exported your Outlook data to a PST file. PST files are a useful way to transport Outlook data from one computer to another. PST files are also useful for backing up and storing Outlook data. You can burn the PST file on to a CD or DVD ROM and keep backups of your mail, contacts and calendar items!
To restore, just reverse the process. From the file menu, select Import and Export then select Import from another Program or File.