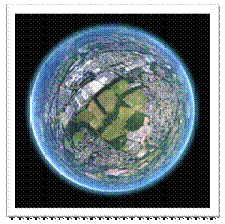 The Billion Dollar code is a Netflix mini-series dramatizing a lawsuit brought against Google by Art+COM for infringement of 'method and device for pictorial representation of space-related data'.
In the series, a German artist and a computer programmer design the first real-time virtual reality simulation of planet earth using a patented algorithm, and formed a company named Art+COM that later became Terravision.
Their original idealistic plan was one of "art for art's sake", and a virtual planetary navigation system for the benefit of mankind. After a trip to Silicon Valley, their artistic ideals are put aside in favor of a more conventional venture capital approach.
Terravision's chief developer claims to have had his idea for an algorithm copied during a wild night at Burning Man festival, by the employee of a company which is later acquired by Google. Although the real-life lawsuit was ruled in favor of Google rather than a more romanticized David and Goliath ending, the four-part film series is worth watching. It provides an inside look into Silicon Valley's visionaries at the time, including iconic brands and characters, and trendy party scenes like Berlin's illegal 1980's underground night clubs. u