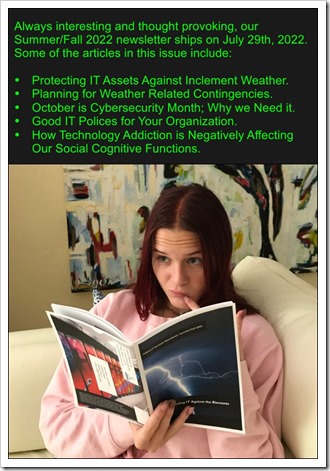 Our Summer/Fall 2022 newsletter will ship by the end of July. As always, replete with interesting and thought provoking articles, this issue includes:
Protecting your IT assets against inclement weather.
Mitigating downtime with a natural disaster contingency plan.
October is cyber security month. Why do we need cyber security?
What are good cyber security policies for organization to have in place?
How to prevent bank wire fraud and social engineering scams.
The dangers of USB keystroke loggers.
FTC and it's strengthening of enforcements on big tech.
Will there be Car as a Service in our future?
Why technology is failing society.
Who was Grace Hopper.
If you do not currently receive our newsletter, it's free. Simply sign up using this link and select the option: I would like to receive the Falcon IT Services newsletter as shown below.