At the time of publishing this article, the SonicOS' drag and drop functionality necessary to move the countries from the allowed list to the deny list in the Geo-IP filter is not working properly. The arrows that allow you to move the countries from one list to another are also missing.
While we had observed this behavior in Linux desktop based browsers before, it appears to be also happening in Windows 11.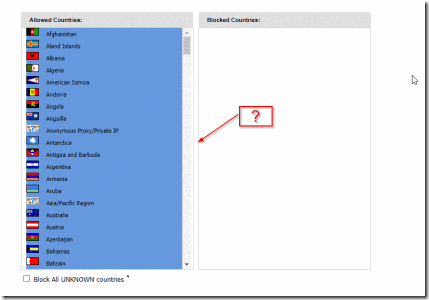 This behavior was observed in Windows 11 and Linux based desktops.
Switching from Firefox to Waterfox or Edge did not render the arrows or allow drag and drop functionality.
The behavior was observed with Sonic OS 6.5.4.9 and 6.5.4.10
Resolution
We were able to get around this issue by loading the web page from an older OS (Server 2012, 2016, Windows 8 & Windows 8.1) and using Firefox to access the page. As demonstrated by the image below, the issue is not present in Windows desktops other than Windows 11. Although the arrows to move the countries do not appear, the drag and drop functionality worked.